Ever thought of experiencing Drummond Island during the winter? It really does transform into a magical winter wonderland. The island is transformed into a large winter playground. During the winter, visitors can enjoy direct access to the island's snowmobile trail system from most the the lodging properties on the island.
With over 150 miles of shoreline and 87,000 acres of forest, Drummond is truly a snowmobiler's paradise offering miles upon miles of groomed trails.
Our International Ice Bridges to St. Joseph Island makes Drummond Island a unique Midwest destination. The tree-lined ice highway is 12 miles long.
Christmas trees are placed every 1/8 of a mile for passage from Drummond Island to the Canadian Island. This is the only direct, legal access to Canada over the ice in the United States.
Throughout the season there are Poker Runs and Ice Races put on by the Drummond Island Tourism Association and Snowmobile Club.
Snowmobile Trails On Drummond Island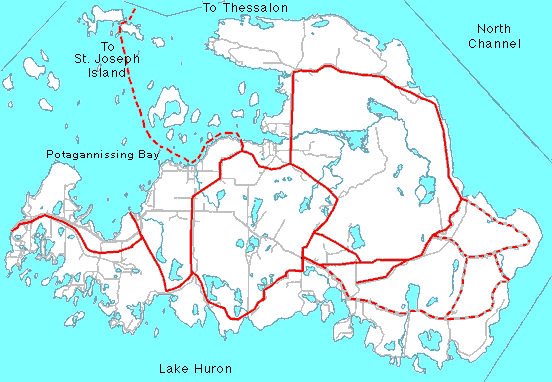 <>