Drummond Island Hotel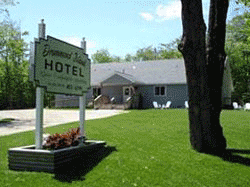 Close. Convenient. A stay at the Drummond Island Hotel means you are just a 'stone's throw away' from the Four Corners – Drummond Island's hub of activity.
Need a bite to eat? Breakfast, Lunch and Dinner can be had at any number of excellent local establishments. From breakfast at the Island Bakery to Happy Hour drinks at the Northwood – you will never go hungry or thirsty on the Island!
If it's a new warm jacket your looking for or just the right bait for snagging the big one – you don't have to wander too far from Drummond Island Hotel's front door!
# Extra large rooms feature pillow-top beds with your choice of two queen beds or one king bed
# Refrigerators, in-room coffee
# Cable television
# All units are handicap accessible
# Ample, off street parking able to accommodate all types of recreational vehicles, their trailers and toys
# FREE WiFi for our guests
# Pet friendly
# Within walking distance of the "Four Corners"
# OPEN YEAR ROUND! Call 906-493-6799 now for your reservations
Drummond Island Hotel
34834 South Townline Road
Drummond Island, MI 49726
906-493-6799
<>
Visit Drummond Island Hotel Website >>>
<>
<>
Visit Drummond Island Hotel Website >>>
<>